Setup Vote Rewards
/vote rewards or %vreward will give a overview of all rewards and commands!
The command
Manage Rewards:
/vote rewards set [voteamount]
Ex: Run /vote reward set 10 -> This will give a reward role on 10 votes
A Message will appear, where it askes you after the reward type, we currently just support roles. Send role
After you choosed the option, it will ask after the role to give, send the role mention in the channel!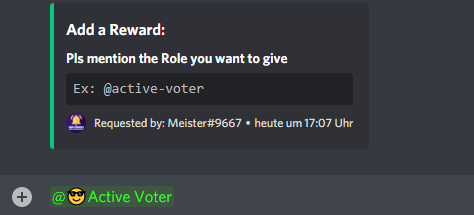 WARNING
Assume that the Bot has a higher Role than the reward Role
Edit Rewards:
Do the same progress like adding vote rewards, just use the same amount
This will overwrite the Role Reward
Remove VoteRewards on a specific Vote Count:
This will remove the Reward, which is given on the mentioned amount
/vote rewards remove [voteamunt]
Enable/Disable Stack Rewards:
When Stack Rewards are enabled. Previous Role Rewards will be removed, when new one has been given.
Example:

You added 2 Role Rewards on the vote amount 11 (Role A) and on the amount 15 (Role B)
When the User reached the Vote Amount 11 they will get the Role: Role A
When the User reached the Vote Amount 15 they will get the Role: Role B
When Stack Rewards is enabled, the Role A will be removed, since the User got a new Role Reward (Role B)
/vote rewards stack [status]