Custom Bot ToS & Create Custom Bot
Terms of Service
Custombot ToS:
The terms "us", "our" and "we" represent Bump Reminder, during "there", "they" represents the Service offered by the mentioned Dev below.
The Community Manager Daniel offers a service named Custom Bots, which is a service not operated by Bump Reminder and is not affiliated to Bump Reminder.
Bump Reminder isn't responsible for the damage caused by there Service.
By using there Service, you agree transferring your Bump Reminder Data to there Service
You can not demand any kind of Refund towards Bump Reminder, since we do not operate there Service.
By using there Service, you agree to this following ToS and there Privacy Policy & ToS on this Pageopen in new window there tos
Patnership Agreement
This Patnership Agreement should regulate the Cooperation between Bump Reminder and the Service named CBVerse
The Partnership does not consist of any mutual interests.
The Partnership can be discontinued at any time.
The Requirments given from Bump Reminder has to be respected or the Partnership will be discontinued.
Bump Reminder Claims:
Bump Reminder makes no claims on the CBVerse's Service and does not want to be involved in CBVerse's Service.
The Data provided by Bump Reminder can be used as long as its needed for operating the CBVerse Service and under the consent of the users.
Bump Reminder doesn't need to be informed, when CBVerse's discontinue there Service.
CBVerse obliged to use our Privacy Policy

open in new window

for protecting your user.
Bump Reminder is offering CBVerse as a gift of the Partnership 100 Premium Codes that can be used for any purpose without anything in return.
CBVerse Agrees:
Hereby CBVerse gurantee to not make any claims over Bump Reminder and not involve Bump Reminder in CBVerse service.
CBVerse hereby agrees to use the data provided by Bump Reminder with the consent of the user as long as it is needed to operate the CustomBot service.
The Service CBVerse provides can be discontinued at any time without CBVerse informing Bump Reminder.
Hereby CBVerse agrees to account the same Privacy Policy

open in new window

, which Bump Reminder has.
Patner 1: Bump Reminder | Meister#9667open in new windowPatner 2: CBVerse | Daniel#0001open in new window
Hereby both Partner agrees with the upper Agreement. Last updated: 03.03.2021
The command %custombot gives you the power to start your Custom Bot, delete them and even change their Status.
Important Note:
Never send the Bot token in a public Channel
Never share the Bot Token to anyone
Create your Custom Bot:
Make sure you're logged on to the Discord website

open in new window

.
Navigate to the application page

open in new window

Click on the "New Application" button.

4.**Give the application a name and click "Create"**.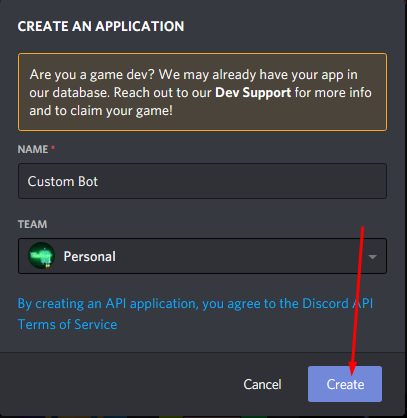 5.Create a Bot User by navigating to the "Bot" tab and clicking "Add Bot".

6.Copy the token using the "Copy" button.

7.Scroll down until the Section "Privileged Gateway Intents" appears
Turn on SERVER MEMBERS INTENT shown in the Screenshot below

Credits goes to this Docs, for creating a good guide how to create a Discord Bot:
Start your Custom Bot:
You need your Discord Bot Token, which you copied during creating it
Create a Private Channel with the Bot and run the command below
Now start your Bot with /custombot start [token] or %custombot start <token>
Your Bot should start in short
Change Custom Bot's Status:
The command /custombot status or %custombot status, will take you through a setup to set a custom status